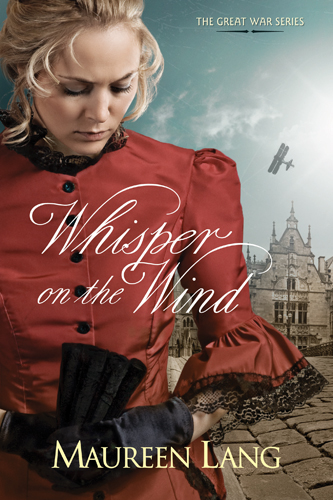 In Brussels at the height of WWI, a small, underground newspaper is the only thing offering the occupied city hope—and real news of the war. The paper may be a small whisper among the shouts of the German army, but Edward Kirkland will do anything to keep it in print. Meanwhile, Isa Lassone, a Belgian-American socialite whose parents whisked her to safety at the start of the war, sneaks back into the country to rescue those dearest to her: Edward and his mother. But Edward refuses to go, and soon Isa is drawn into his secret life printing the newspaper . . . And into his heart.
(MaureenLang.com)
I was hesitant about this book at first but as I continued to turn the pages the book's plot had me reading as much as I could. The book was suspenseful as well as historical.
The characters in
Whisper on the Wind
were strong, there were barely any time where I felt that they needed help. The whole country of Belgium needed help and Maureen Lang made sure she knew her facts while she wrote her book.
I have never read a historical fiction book quite as realistic and vivid as Maureen's book.* Maureen taught me more about World War I than all that I knew about the war at all.
The war was between Germany and Belgium and what I really just wanted to know were how the people were that were affected by the war. Maureen showed how Isa and the Kirklands had to hide during the time of war while a newspaper was being printed that Germans considered illegal. Isa and the Kirklands had to hide and the Kirkland risked their lives along with Isa just to do the right thing. The characters in the book met characters that didn't think as highly as they did of their God but they had trouble in their faith just like some of their friends.
The moral of the story was how to not hate your neighbor and enemies even while troublesome times were occuring.
Whisper on the Wind
was a powerful book that didn't end like those typical stories.
You should read Maureen's next books right after you read
Whisper on the Wind
!
Whisper on the Wind
receives 4 1/2 stars.
Tyndale was kind enough to send me a free reviewing copy of
Whispers on the Wind
.
Paperback: 432 pages
Publisher: Tyndale House Publishers, Inc. (August 4, 2010)
Language: English
ISBN-10: 1414324367
ISBN-13: 978-1414324364
Maiden